Field Service Lightning
Increase productivity, online and offline, with the field service built for anything. Schedule seamlessly, reduce costs and improve efficiency.
Field Service Management technology automates the field operations of a team of service professionals through mobile systems. Make your field service more data driven and agile, decrease logging times, keep customer data safe and improve customer engagement with Salesforce Field Service Lightning.
OPTIMIZE YOUR FIELD SERVICE MANAGEMENT WITH
Working with Field Service Lightning is working with the best available service platform globally. Manage and monitor your mobile service and support through an omnichannel solution, enabling faster problem solving, increased productivity, automated planning, real-time insights into activities and much more.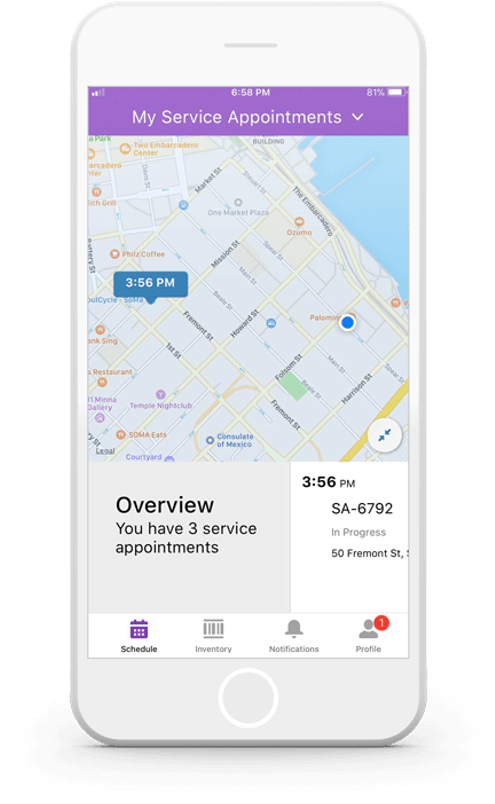 DEVELOP CUSTOMER ENGAGEMENT BY ENABLING DATA FOR
By giving your mobile (service) workers the application with data, schedules, logging systems, tutorials and remote support, you enable them in solving problems directly and in an efficient and effective way. While being well prepared and up-to-date, your mobile workers are more agile and focused on providing the best possible service on location.
ENABLE YOUR CENTRAL AGENTS TO WORK ON
PRIORITIZING & EFFICIENCY
Mobile service requires an optimized central organization for planning, direct support, task appointment, asset management and more. Field Service Lightning enables you in keeping your central agents and mobile workers perfectly aligned, increasing efficiency, agility and customer experience.
GIVE MANAGERS MORE INSIGHTS INTO DATA VIA
DASHBOARDS, REPORTS & MORE
Field Service Management is more than providing mobile service. Enable your complete business development by keeping track on service contracts and maintenance subscriptions, managing externals and other employees, improving and providing a central knowledge base and through optimization of asset management.
Something big is coming, and we're excitedWant to stay tuned? Leave your details below!
Per 1st of April 2022, Monique Puchala has joined VANEIGENS as Senior Project Management Officer. Monique will play a key role in …